fg-a.com
Aircraft Clipart

Alien Animations

Alligator Clipart

American Patriotic

Animals Animated

Ant Clipart

Arbor Day Clipart

Armoires

Arrow Gifs

Autos Cars


Backgrounds

BG's African

BG's Animated

BG's Black

BG's Large

Baseball

Basketball

Bear Images

Bird Clipart

Birds Animated


Birthday

Bizarre Gifs

Boats & Ships


Borders

Bullet Clipart

Bullets Animated

Butterflies

Button Clipart

Buttons Animated

Camping

Chair Clipart

Chemistry

Christian


Christmas BG's

Christmas Borders

Christmas Clipart

Columbus Day

Congratulations

Cool Clipart

Crab Gifs

Dollar Signs

Earth Day Clipart

Easter Clipart


Email Animations

Enter Animations

Face Clipart

Fantasy Clipart

Farm Animals

Fathers Day

Firetrucks

Fishing Gifs

Flag Day Clipart

Flags World

Flags US States

Flags American

Flower Clipart


Flowers Animated

Food Animations

Football Gifs

Frog Gifs

Fun Clipart

Furniture

Go Clipart

Grandparents Day

Guestbook

Halloween


Halloween BG's

Hand Tools

Heavy Equipment

Hockey Clipart

Holiday Gifs

Home Clipart

Hot Clipart

Icons

Independence Day

Insect Gifs

Kwanzaa Clipart

Labor Day

Lines Animated

Line Clipart


Link Clipart

Lobster Gifs

Medieval Gifs

Memorial Day

Miscellaneous

Misc. Animated

Mother's Day

Music Gifs

New Clipart

New Year's


Patriot Day

Peace Clipart

POW/MIA

Presidents Day

Science

Scuba Diving

Shopping Cart

Shrimp Gifs

Snowboarding

Sofas

Spacecraft

Sports Clipart

St. Patricks Day


Sun Clipart

Telephones

Thanksgiving

Thank You

Tools

Trucks

Under Const.

Valentines Day

Vampires

Veterans Day

Weapons

Welcome

Women


Website Design

Javascript

Web Hosting

Animation Software

Ecommerce

Web Page Design

Graphics Software

Free Web Hosting

Free Guestbooks

Meta Tags

Information
Animated Aliens

You may use our aliens to enhance your websites.
Previous Animated Aliens Page Next Alien Clipart Page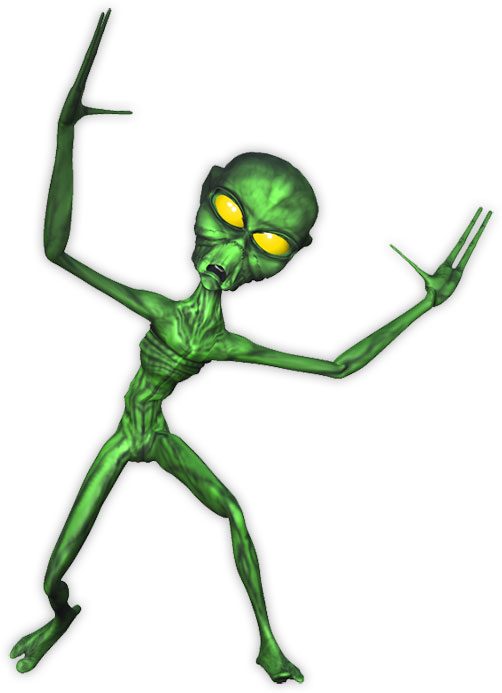 Our spaceship is damaged. All we need to fix it and leave your planet is a diamond this big! Otherwise, we are going to stay. Did I mention we are carnivores? (Darn, the hippies were wrong again.)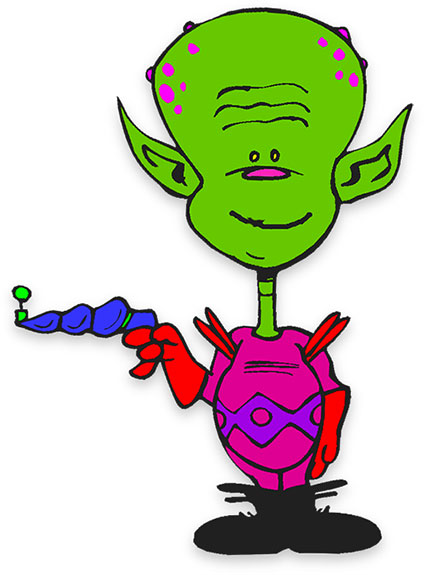 Space alien with his advanced ray gun.
| | |
| --- | --- |
| Aliens dancing with joy. This animation has a transparent background. | One eyed alien wearing a silly hat. This animation has a shadow and a small white BG. |
| Animated blue alien walking. This animated visitor was designed for white and light colored web pages. | Alien with very long arms. This slightly confused alien is on a white background. |
| This slow moving black eyed animated alien was designed for black and dark colored pages. | This fellow black eyed green alien was designed for white and light colored websites. |
Previous Animated Aliens Page Next Alien Clipart Page
Alien Graphics Page 1 | 2 | 3 | 4 | 5 | 6 | 7 | 8 | 9 | 10 | 11 | 12 | 13
If you use our dancing aliens please give us credit for our graphics. Thank You.

<p><a href="http://www.fg-a.com">Free Alien Clipart</a></p>