Green space alien with big red eyes. This alien was created for use on black or dark backgrounds.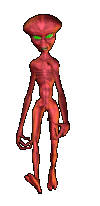 Copper alien with green eyes. He seems angry and determined. This graphic was designed for dark and black web pages.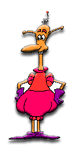 Big nose, funny clothes and a lump in this aliens throat. Graphic has a white BG.


Funny face alien animation.


Blue alien animation with large black eyes. This space man is designed for white or light colored pages.


Space ship creating its own gravity! Animation has a transparent BG.


Animated blue space alien that swings from side to side. Alien designed for black or dark pages.